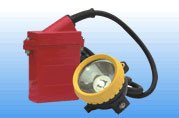 Specification for Miner` s light
Miner of KL4M` the s light is a modern style and safe light which use the lithium to use the lithium battery similarly the ability source and lead the cold light soruce similarly lighting. It is a breakthrough in the miner's technical prairie` s light at recent 50 yearses. Its following characteristic;
1. Convenience of to usage:
The constant of the Becaueschargint- managing person- is a construction with constant- electric voltage in its light at present, the light can be a direct burden it is fixed in that time in a kind of light of dissimilarity- carry, have no aged any adjustment light- burden.
2. Constant and strong lighting:
The new semi- leader was adopt of for illuminate,
As a result the lighting can be the situation 900 Lxes of the stipulation
From exactly of start use it for the sake of 11
Hour, the whild has there common of of big difference
Light( its lighting is unique 400 Lxes to use it after for the sake of 11
Hour).
3. All protection function:
Protect the device is an usage for the sake of the be over- burden
And be over- unload. Shorten the occurrence in that time,
An its pass out of the ability ability source inner part
Milisecond ( 1ms). Therefore, it is very the safe-deposit box for the sake of
Miner.
4. The light is in the weight and samlls in the size
Its total amount weight is unique thire(1/3) common
Miner` s light.
5. Long life span:
Ever since it uses the lithium battery similarly the ability source, its
The life is two period longer ratios common of of that
Safe light.
6. Raise longly- the semi- leader that path be apart from and
Source of Illuminationg:
Its average operation time is 50,000 hours, its ability
Is an usage to have no bulb of replacting.
7. Green and circumferential protection:
Because its lithium battery, have the loophole there,
Have no loophole, have no pollution and without demand for the sake of the maintenace.
It is a really new green and circumferential
Protection product.